Our 10 day stay in Lagos is over.  It's been nice, but it's nice to move on, too!  The windy and cooler weather (until the last days!) kind of kept us from wandering too far.  Dave is repeatedly in awe of the information and free tools/software applications available on the Internet, and he spent a goodly amount of time 'learning'.  Saturday we'll be taking the train, with 2 changes, to Evora, which is east and a little south of Lisbon.  We're in Evora for 3 nights, then on to Lisbon for a longer stay.  Since we've never been to Spain or Portugal before, planning how long to stay in any town (and what towns to visit, for that matter) is kind of a crap shoot backed by a little research.  If Evora has more for us to see than 2 full days allows, it'll be an easy additional day trip from Lisbon.
The following images will give you a better idea of what Lagos and surrounds looks like.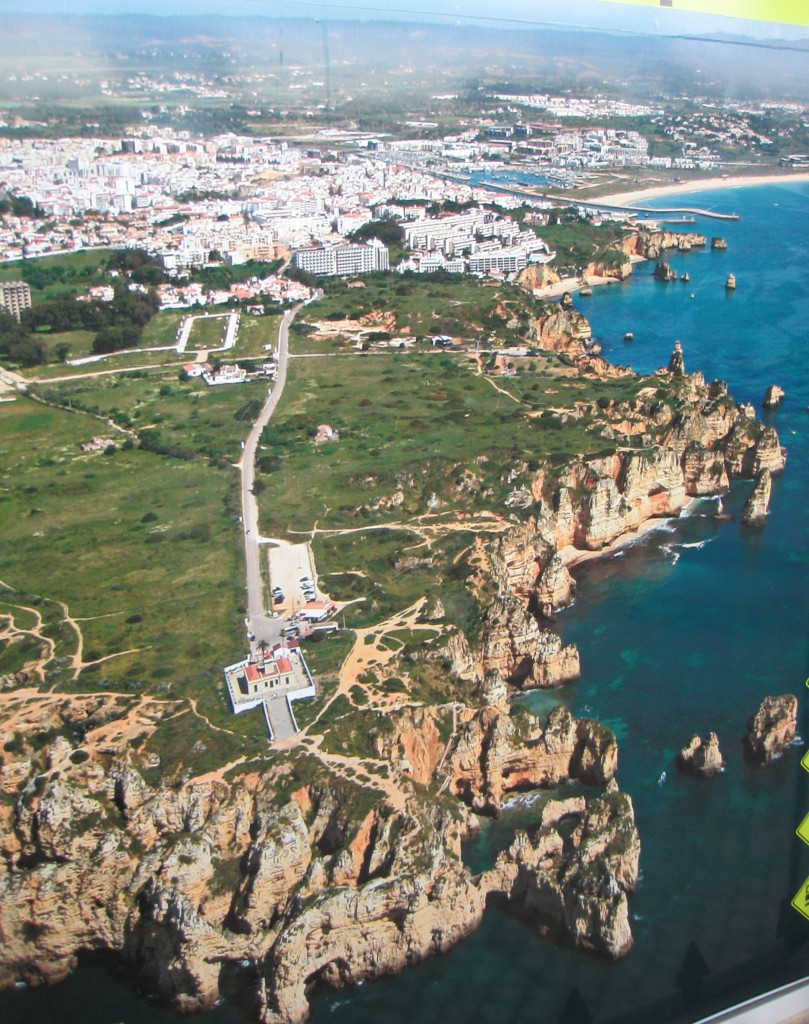 Above is a photo of a photo, with our hiking trails in the foreground and town, with river running through it, in the background. Note the beach at the upper right.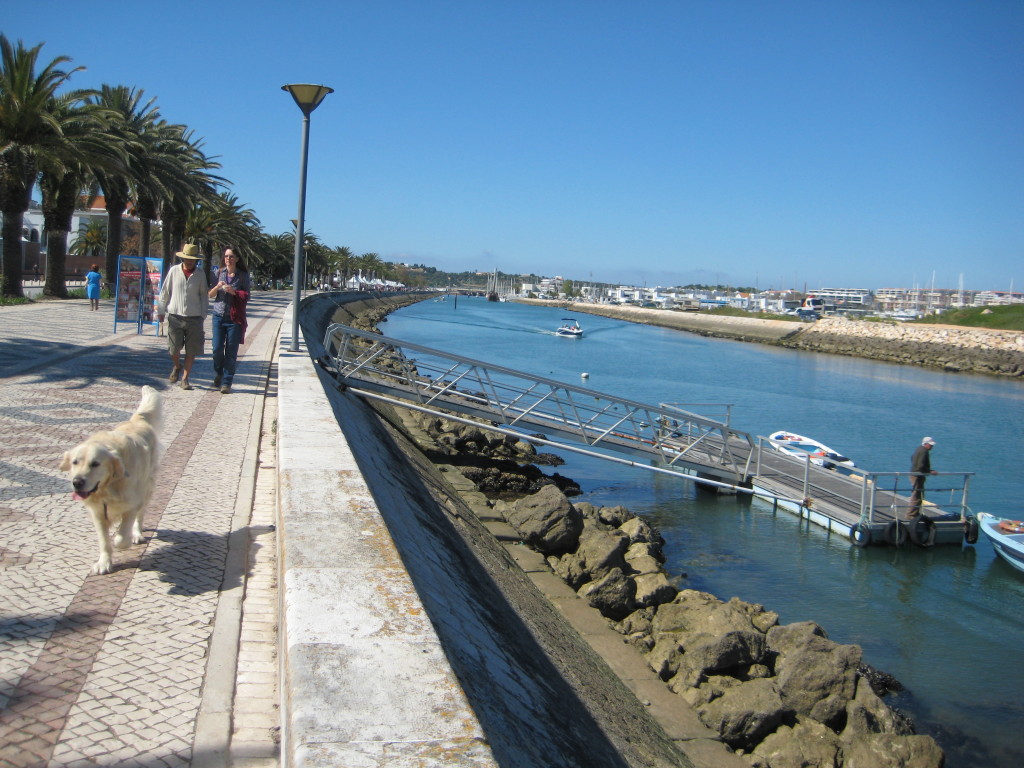 Looking up river along the promenade.  There are two marinas and a large boat yard further up and on the right.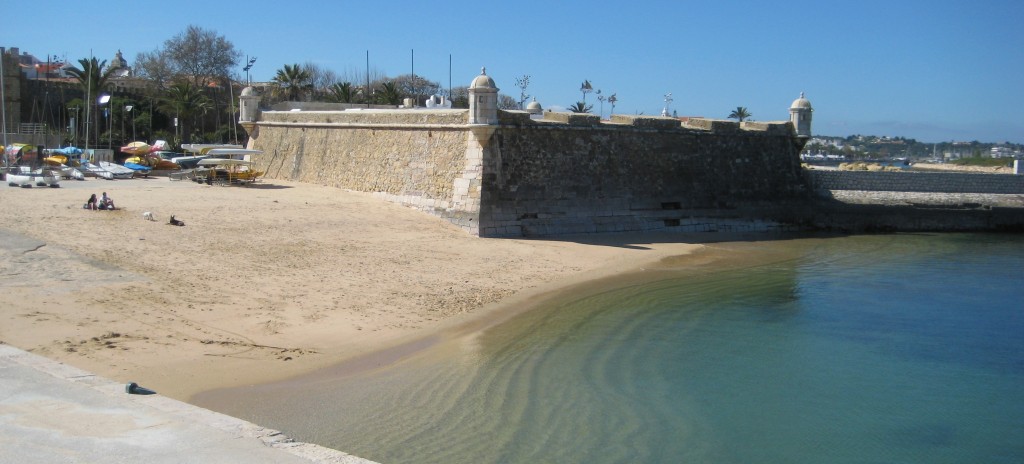 Ah, the sandy beaches!  This is west of the river mouth.  On the east side, the sand stretches uninterrupted all the way to Portimao.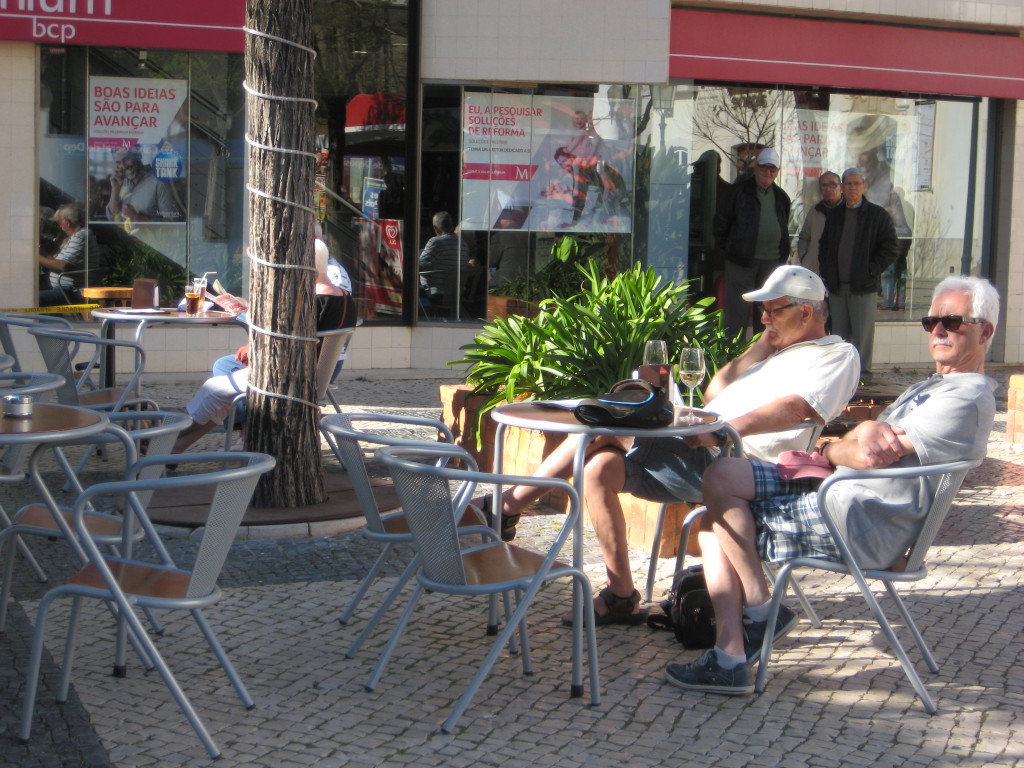 A popular pastime with a bazillion places to chose from.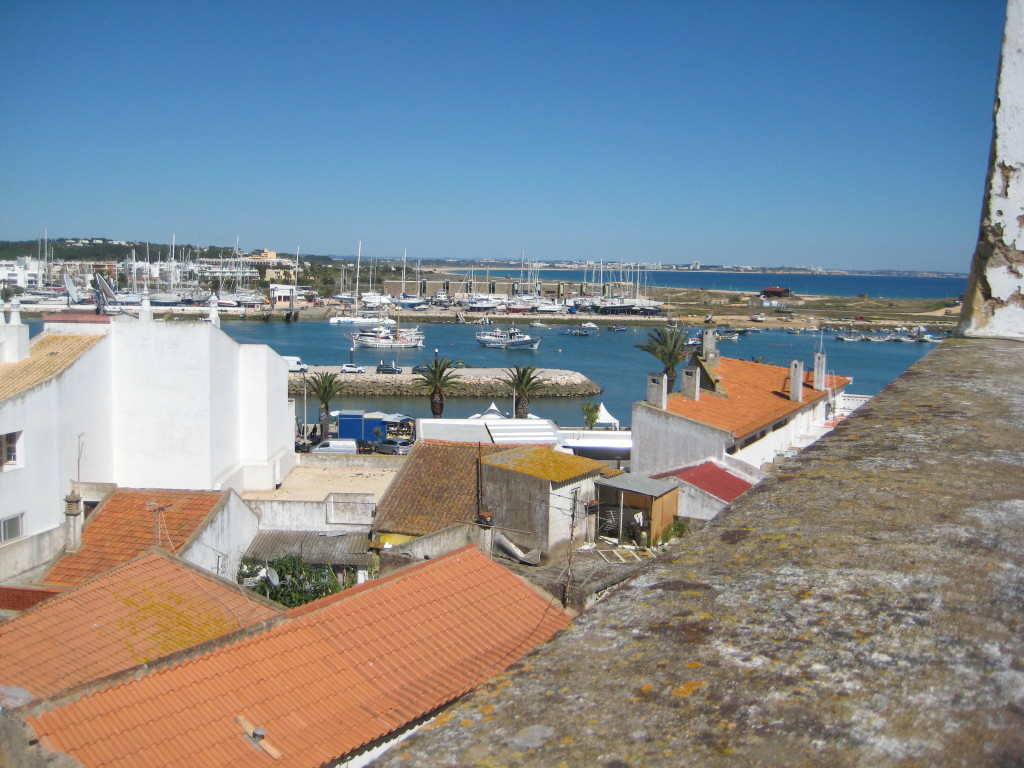 Coming down our very steep street toward the river.
Portuguese dogs learn early to wait patiently for their masters, who spend a lot of time socializing.
Sweet little local ride.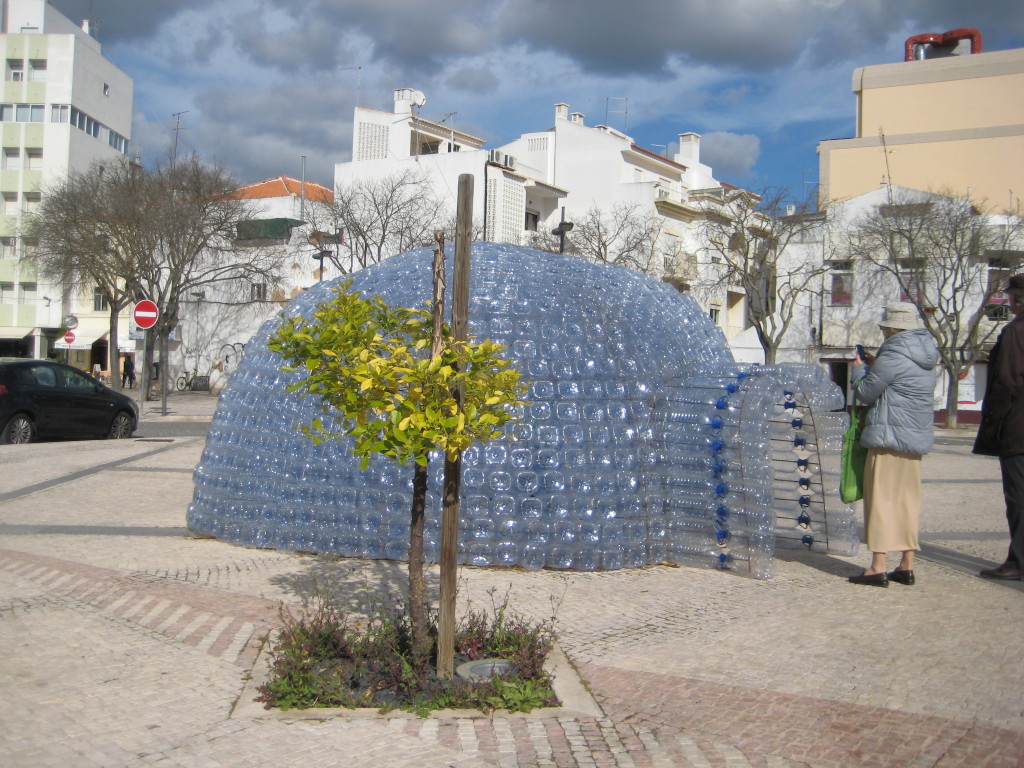 A day trip to Portimao, 15Km to the east, found us looking at a water bottle igloo.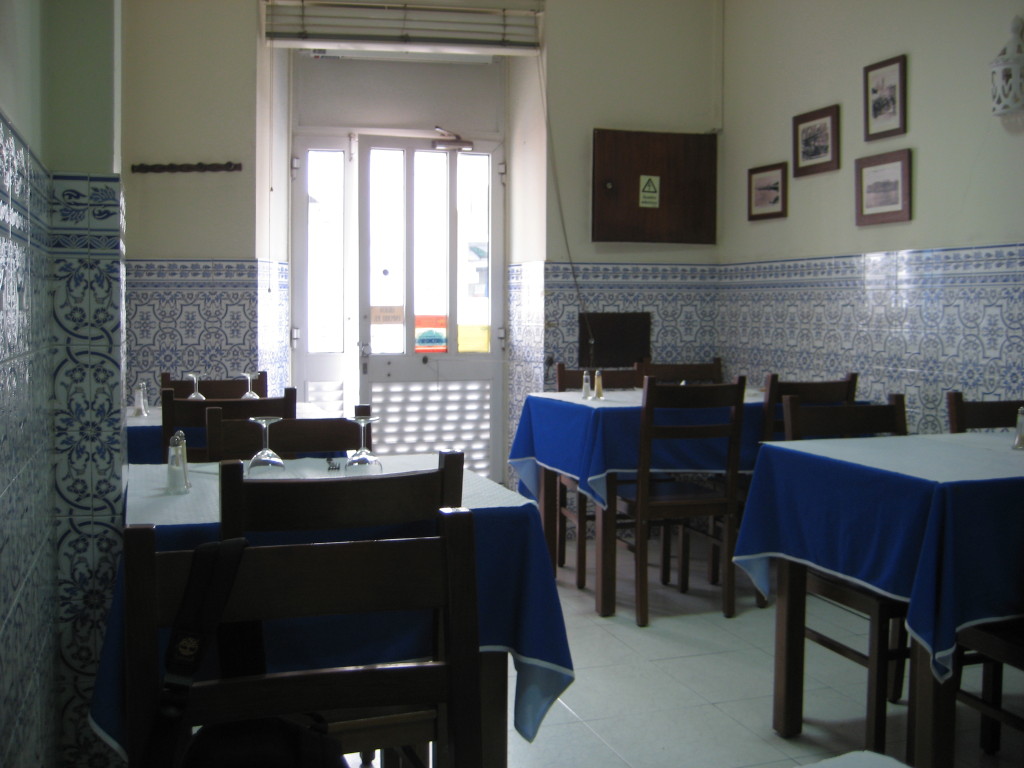 Inside of local Portimao restaurant where we had lunch.  The beautiful tiles are common.   Though we haven't eaten out much at all – maybe 3 times here in Lagos – a common thread has been a heavy hand with the salt.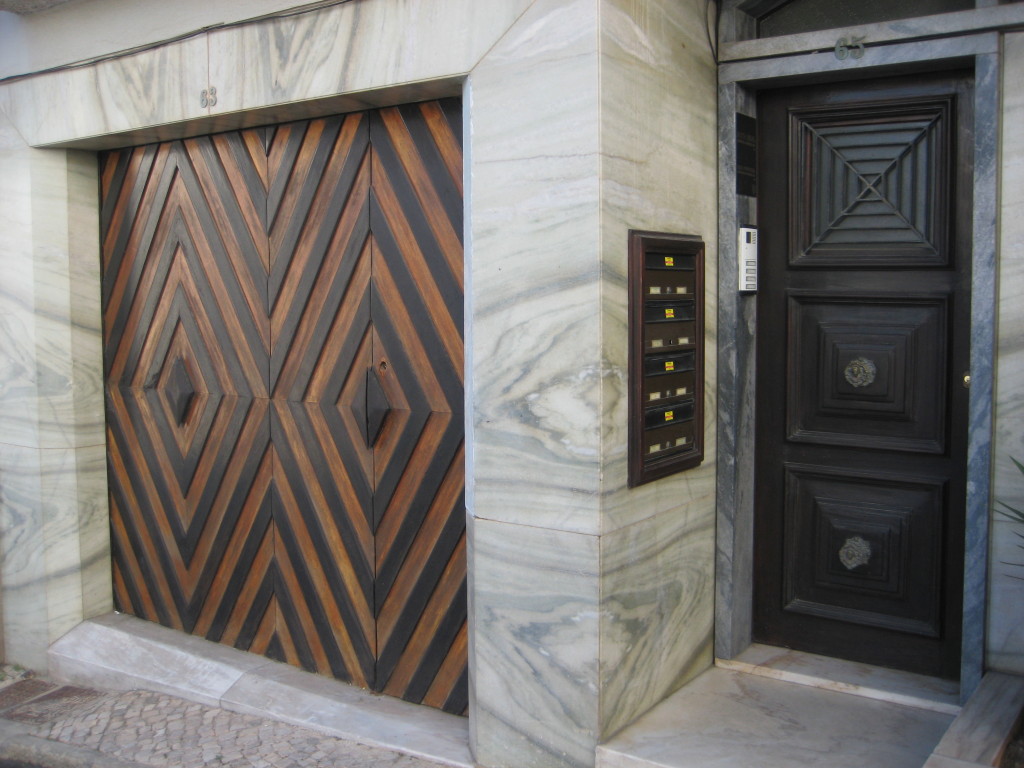 Be well – Laura